Float Session Pricing
60 Minute Float Session — $70.00
Couples 60 Minute Float Session — $140.00
What is Included?
Towels
Soap, Shampoo, Conditioner (Shower Before/After)
Hair Dryer
Earplugs
You float in an epsom salt solution that is heated to body temperature within a giant isolation tank chamber.  It is designed for total relaxation and creates a stress free environment to ease your mind.
Due Care: Each guest is advised to use available safety features, such as grab bars & textured flooring. We ask that each client take precautions against wet or slippery floors to avoid slips, trips or falls. Surfaces are wet as they are cleaned between each session.
Filtration Process: Begins when guests leave their float cabin. The water is sanitized through, 4 cycles of treatment: #1/primary particle filter, #2/ozone, #3/UV filtration, #4/1-micron filter. Total time to complete filtration process is within 20 minutes between each float session.
I understand I will not use the flotation cabin if…
I have not showered thoroughly in lukewarm water (only) & still have oils, creams, or makeup on my body or in my hair.
I have had any type of hair color/treatment within the past 2 weeks.
I have shaved, or waxed an area of my body within the same day as my floating session (recommended wait time is 24 hours).
I have received a tattoo within the past 4-6 months.
I am in the first trimester of my pregnancy.
I am under the influence of alcohol or dugs.
I have a communicable or infectious skin condition, disorder, diseases or open sores.
I am diabetic, unless it is under medical control.
I am experiencing any genital episode of communicable disease or a heavy menstrual period.
I have kidney disease or any involuntary release of bodily fluids of any kind.
I have any medical history for which I have not received my Dr.'s permission to use the float cabins.
It is our policy to refuse service to any guests who cannot abide the following considerations that help ensure an amazing experience for all guests. Violation of any of these rules that results in contamination of the float cabin water may result in a salt replacement fee of up to $1,000.
Float Tank Dallas | Sensory Deprivation & Isolation Tank Therapy
Have you been looking for sensory deprivation tank therapy in Dallas? It is now possible to enjoy the unique sensation of weightlessness and deep relaxation with the therapeutic float tank experience at our spa. In a completely natural way, we simply invite you to float, freely and effortlessly, in a silky solution of water at a controlled temperature that you cannot even feel, containing over 1,000 pounds of Epsom salt.  It is quite amazing!
The Float Tank Experience
Comfortably stretched out in your personal bath, your body gradually frees itself from weightiness, letting a pure sensation of relaxation rise from deep within. In a quiet room, be left alone from all the nuisances & stress in your life. Leave your worries behind in this flotation tank therapy that is ideal for creating a calm mind and experience.
The presence of a tranquil environment accompanied by the powerful virtues of Epsom Salt enhances the connection between mind and body and will decrease your level of stress, enhance your quality of sleep, relieve your pain, increase your immunity, and improve your circulation. We recommend booking a floating session by itself or before a wellness massage to enjoy the full therapeutic float tank experience for total mind & body relaxation. This is ideal for meditation and people looking for a unique experience to really let go of their worries and frustrations.
Your float session
Your float session takes place in a private space that ensures complete privacy and complete relaxation environment. It is not necessary to bring a swimsuit. The room is carefully designed and the chamber is equipped with a system that controls the temperature to the water, an integrated ventilation system; a purified water system, completely free of bacteria. The session lasts for 60 minutes but we ask you allocate 90 minutes of your time.  You will start with a shower to eliminate body oil in order to preserve the water weightlessness. After a final rinsing shower, we offer you spa water or herbal tea and you are welcome to rest in our relaxation lounge in order to re-acclimate yourself to the outside world.
*Couple's flotation sessions are scheduled within one float tank.
What We Provide:
We will provide you with: towels, soap, shampoo, conditioner, hair dryer, and earplugs.
We do not provide: hair brushes, shower caps
We are looking forward to having you enjoy your isolation float therapy experience!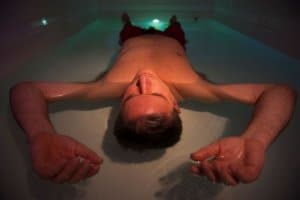 Ask About Our Other Float Tank Specials
FLOATATION TANK MENU SERVICES
Floatation 60 Minute
Couples Floatation 60 Minute
FLOATATION MONTH TO MONTH MEMBERSHIPS
Floatation Membership 60 Minute
Couples Floatation Membership 60 Minute
FLOATATION PACKAGES
52 Floatation Package 
Helpful Floatation Links
Continue to discover more about the floating experience by visiting the pages below!
   Contact us today to try a float tank experience in Dallas, TX!
Contact us if you have any questions about the float tank sessions or other float tank packages!
Riviera Spa
4514 Travis St #105
Dallas, TX   75205
214-521-2112