Get A HydraFacial Treatment in Dallas!
Get the best skin of your life with this amazing skin treatment!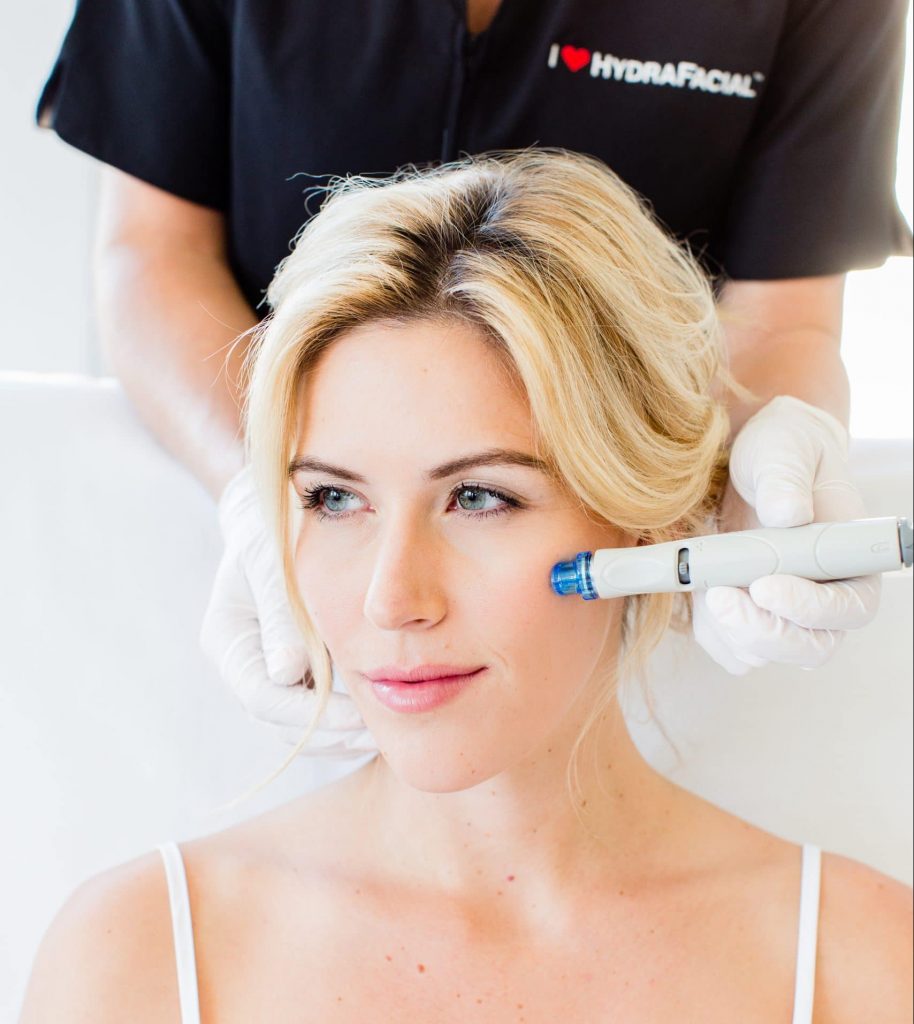 What is the HydraFacial?
It is a brand new facial treatment that combines different serums to achieve exceptional results on your skin. It exfoliates, hydrates, and deep cleans your skin at the same time for a superior results that lasts. It is considered the better & more evolved microdermabrasion that hydrates your skin. It is great for a wide variety of skin types and skin concerns for all ages.
The HydraFacial Treatment

Facial treatments are aplenty nowadays. There are chemical peels that exfoliate your skin. Hydrating facials that moisturize it. Anti-aging facials that reduce signs of aging. And that's just naming a few.
But do you feel like your precious time gets wasted doing multiple treatments (when you could just sit at home and do something important. Like, um, watch Netflix?). Not to mention the toll it takes on your wallet?
HydraFacial is different, however. It can exfoliate, hydrate, reduce aging signs, and reduce hyperpigmentation, wrinkles, increase collagen, and more. It's a Jack of all skin treatments (and a master at them too).
If you want to change your skin radically, you should try out one of our HydraFacial options below. We go beyond regular HydraFacial treatments, using LED technology and unique peptides to improve HydraFacial results significantly.
If you would like more information on the Hydrafacial treatment visit here.
Our HydraFacial Treatment Options
Platinum HydraFacial
This prestigious HydraFacial treatment exfoliates and reduces fine lines and wrinkles with the use of a glycolic/salicylic blend, antioxidants peptides, and hyaluronic acid. Your esthetician will include a booster and LED therapy to supercharge your results based on your specific skin care goals.
80 minute – $285
Member Pricing: $255
Deluxe HydraFacial
The Deluxe hydrafacial treatment exfoliates and reduces fine lines and wrinkles with the use of a glycolic/salicylic blend, antioxidants peptides, and hyaluronic acid.
80 minute Signature HydraFacial – $245
Member Pricing: $230
Signature HydraFacial
The signature hydrafacial treatment exfoliates and reduces fine lines and wrinkles with the use of a glycolic/salicylic blend, antioxidants peptides, and hyaluronic acid.
50 minute Signature HydraFacial – $230
Member Pricing: $200
HydraFacial Perks:
Lip
Exfoliates, Rehydrates, and Lightly Plumps
$50
Eye
Brightens, Firms, and Hydrates
$50
Lip/Eye Combo
$90
HydraFacial Boosters:
Circadia ProTec Plus
-Protects the skin from free radical damage
-Provides optimal hydration
-Reduces visible signs of redness
$30
*Included with VIP
Circadia Chrono-Peptide
-Reduces the appearance of fine lines and wrinkles
-Energizes the skin
-Leaves the skin feeling radiant and glowing
$30
*Included with VIP
HydraFacial Britenol
-Brightens and balances skin tone while minimizing the appearance of dark spots and sun spots
$30
*Included with VIP
HydraFacial ReGen GF
-Regenerative peptides mimic growth factors to boost production of collagen and elastin
-Breakthrough M-007 technology enhances treatments by allowing deeper, more effective penetration
$50
$25 with VIP
HydraFacial is a patented new facial technology that's got a celebrity cult following thanks to its effectiveness. It's an advanced version of microdermabrasion (and is sometimes called 'Wet Derma Microabrasion').  
The treatment is done in three steps – cleanse+peel, extract+hydrate, and fuse+protect (who knew math could make your skin look so sexy). 
The facial treatment has got celebrities like Kate Winslet and Britney Spears raving about it and is gaining steam throughout the world for its effectiveness. 
Let's have a quick look at how your skin will be treated during a session of HydraFacial. 
Step 1 – Cleanse + Peel
The treatment starts with a deep cleansing that will remove excess dead skin cells and extra sebum from your skin (that's the stuff that makes your skin look oily). 
Then more dead skin cells will be removed from your skin's outer layer by exfoliation (using a mix of salicylic and glycolic acids). 
Step 2 – Extract+Hydrate
This crucial step will remove debris from your pores using a special HydraTip. This tip will also vacuum out oil and other impurities. 
The HydraTip will then deliver special moisturizers (like hyaluronic acid) to nourish and hydrate your skin. You'll notice your skin looking brighter and cleaner. 
Your skin will also benefit from the increase in collagen, making your skin look plump, preventing it from sagging, and reducing wrinkles. 
Step 3 – Fuse+Protect
This step will saturate your skin with antioxidants and peptides to make your skin glow. It will also detoxify and protect your skin from free-radicals (which can cause wrinkles, dark spots, and saggy skin). 
Here's how Hydrafacial will help you.
It makes your skin brighter and plumpier.

Your complexion will become clearer 

You'll notice reduction of dark spots, wrinkles, and saggy skin with each treatment.

It will make your skin even-toned and firm. 

It will protect your skin from further damage. 
HydraFacials last longer and are more effective than most other skin facials. If you're like the many patients we come across, you'll find tremendous improvements in their skin in just one session. 
For some people, these effects last a week or two. For others, the results last a month or more.
Routine HydraFacial treatments make the results more permanent. 
You'll get the best results with HydraFacial if you use it often. 
To get the best results, we recommend a treatment every four to six weeks. Each treatment will further reduce wrinkles, spots, and hyperpigmentation, in addition to making your skin look smoother.
And the best part, these effects compound over time.
After six treatments (you may require more or less depending on your skin type and condition), a treatment once a couple of months is sufficient to keep your skin looking vibrant, smooth, and healthy. 
If you cannot afford the treatment, you can take the treatment twice a year – at the end of winter and summer. This repairs any damage caused during the two seasons.
Blackheads hate HydraFacial. And for a good reason. 
HydraFacials are highly effective at eliminating them. And it's a safer option than using blackhead removal strips. The strips only remove the top layer of blackheads, leaving bacteria, sebum, and oil behind. These strips can also make your skin appear uneven.
For some people, yes, it's common to have acne pop up over the next few days. 
But is it a bad thing? Absolutely not – the breakouts are a good sign that the treatment is working effectively. The acne dries out quickly. All the impurities will get purged, leaving your skin looking fantastic in a few days. 
HydraFacial is the clear winner in this facial match. HydraFacial includes all the benefits of microdermabrasion, and then some (without any side effects microdermabrasion is known for).
Here are some ways HydraFacial trumps microdermabrasion:
HydraFacial is more gentle on the skin. It exfoliates with the help of vortex technology which uses liquid to remove oil, dead skin, and dirt.
Microdermabrasion, on the other hand, is rougher on the skin due to the abrasive tip used.
Microdermabrasion causes more redness and inflammation than HydraFacial due to abrasive tip.
HydraFacial involves multiple procedures (cleansing, exfoliation, lymphatic massage, LED therapy, and serums), whereas microdermabrasion is just one procedure (exfoliation).
If you sit for a HydraFacial session, you'll feel comfortable as the process is gentle and enjoyable. On the flip side, microdermabrasion can feel uncomfortable due to the rough tip and the pulling action.
Microdermabrasion can cause redness and irritation. It can also lead to microtears that can leave your skin susceptible to mild sun damage and aging.
With the HydraFacial treatment, there might be mild redness, but it goes away fast, within an hour.
In a microdermabrasion treatment, the redness lasts longer.