Are Float Tanks Safe During COVID-19?
This pandemic has turned out to be not only a health crisis but also a mental one. People are scared, anxious, and unable to make proper decisions. The solution we will take a look at is a floating therapy that has amazing benefits for mental health and a great relaxation effect on your mind.  With it being in doors, is it safe to get a float tank session?
Well, the short answer is definitely yes.  With complex water cleaning systems, manual cleanings of the inner walls, and fan ventilation of the inner float tank chamber, float tanks are a very clean and sanitary activity to do during COVID-19.
Float tank owners require all customers to take showers before & after their float session to prevent foreign fluids & contaminants in the water as well.
It is very safe to do a float tank session.  Almost all float tank owners take many precautions to ensure that their clients receive sanitary conditions in their float session and experience a relaxing & safe environment.
Are Float Tanks Sanitary?
The float tanks are offering the cleanest water you will ever find & all of this is due to the complex multi-stage water cleaning system each float tank has. The water is even much cleaner than any of the hot tubs or pools you have been in.
The float tanks offer many layers of protection such as sterilization, constant filtration of the water, UV lights, and of course the salt that triggers the floating effect.
As a matter of fact, in one float tank, there is at least 1000 pounds of magnesium salt in the float liquid. You can find a similar concentration of salt in the Dead Sea. Living up to this name, the microorganisms in the sea simply can't survive there because of the high amount of salt.  The same is true for the float tanks, the virus simply can't survive in an environment like that.
To top this off, the UV lights that are used in the float tanks trigger a molecular reaction that makes the water as clearer and cleaner as it can be.  This UV process generates ozone as well cleaning the water even further.
This process also kills any of the viruses, bacteria, or microorganisms faster than the blink of an eye. When the bacteria get exposed to the UV lights it is immediately dead and can't reproduce or infect anymore.
The final byproduct of this process is oxygen, carbon dioxide, and a sterile water solution. The same process is used by your local municipalities to turn bad/unclean water into a drinkable liquid.
The only difference is that in the floating tanks there aren't any chemicals used like chlorine & fluoride for example.
The whole water cleaning cycle is repeated every 40 minutes, between each session. That way you can be sure that the water is sanitized before you dip in for your floating therapy.
According to the CDC, there isn't a piece of evidence suggesting that the Covid 19 can actually spread to humans through pools or any kind of hot tubs through water. (1)
As you understand now, the water is safe. But what about the environment outside of it?
We are following all of the guidelines from the health dept. authorities to ensure a safe experience. Some of the guidelines and restrictions include:
⦁    An anti-bacterial/virus solution must be used on every surface, latch, machine buttons, door handles, etc.
⦁    Hand washing guidelines must be added above every sink in the facility.
⦁    If a client is not feeling well and has been experiencing any of the COVID 19 symptoms it mustn't show for the booked hour. The client will be compensated with a full refund.
⦁    When a client arrives for therapy in a booked hour he must notify the staff of his arrival and wait for an invitation when his room is ready.
⦁    Everyone will be asked screening questions for COVID before entering the building.
⦁    When a client enters the facility his temperature must be measured.
⦁    To minimize every interaction between the clients and the staff, the client must not take any detours on his way to the float tank room and after that to the exit.
⦁    Every client must shower and clean thoroughly before entering the float tank. With soap, shampoo, & water.
Generally, the float tanks are being kept as clean as possible, but in this pandemic, we have taken the precautions to another level.
Our cleaning staff is going above and beyond to ensure the safety of the clients.  That way everyone is working together and has its impact on achieving the best possible sanitary & safe experience.
Bottom line, the float tanks are almost 100% sanitary so there is nothing to worry about.  We can't guarantee it will be 100% safe but we definitely take COVID seriously and follow strict and an a extensive cleaning procedures every single day.
What do you need to bring to a float? 
The only thing you are required to bring to a float is your own mask. You can take it down only when you are in your private room and after you exit the facility.  You can optionally bring your swimsuit if you would like.  It is not needed if you want to try your float session unclothed.  It's your choice.
*You must take a shower before your session in the shower area in the float room to clean your body of sweat, oils, perfumes, lotions, etc.
Almost all float tank businesses will provide towels, soap & shampoo (for showering), hair dryer (most), & earplugs.
Do I need to bring a swimsuit?
As we said earlier, if you want to bring a swimsuit then by all means.  You don't have to wear one in the float tank. It is a personal choice.  If you want to be unclothed that works too.
How do float tanks get cleaned? / How often do float tanks change the water?
The most important thing while taking care of a float tank is to clean the inside walls of the tank regularly. Float tanks are cleaned daily, at most places.  Other float tank locations clean usually 3-4 times a week. The float water inside is cleaned by the water cleaning systems every 40 minutes.
The parts that are out of the water are a perfect place for the development of bacteria so they should be cleaned with hydrogen peroxide and disinfectant cleaning solutions to eliminate mold, viruses, and bacteria.
After that, the water is run through the filtration system for extended periods and it's changed weekly.   With the advanced cleaning systems of the float tank, all bio-contaminants (if any) are taken out of the water multiple times per day.
What does a float tank feel like?
Floating therapy is labeled as the ultimate kind of meditation.
Float tanks don't feel like anything honestly.  The water is kept at slightly above room temperature and you float very well in an Epsom salt solution to keep you very buoyant.  The float tank chamber cuts down on your senses being stimulated and outside noise.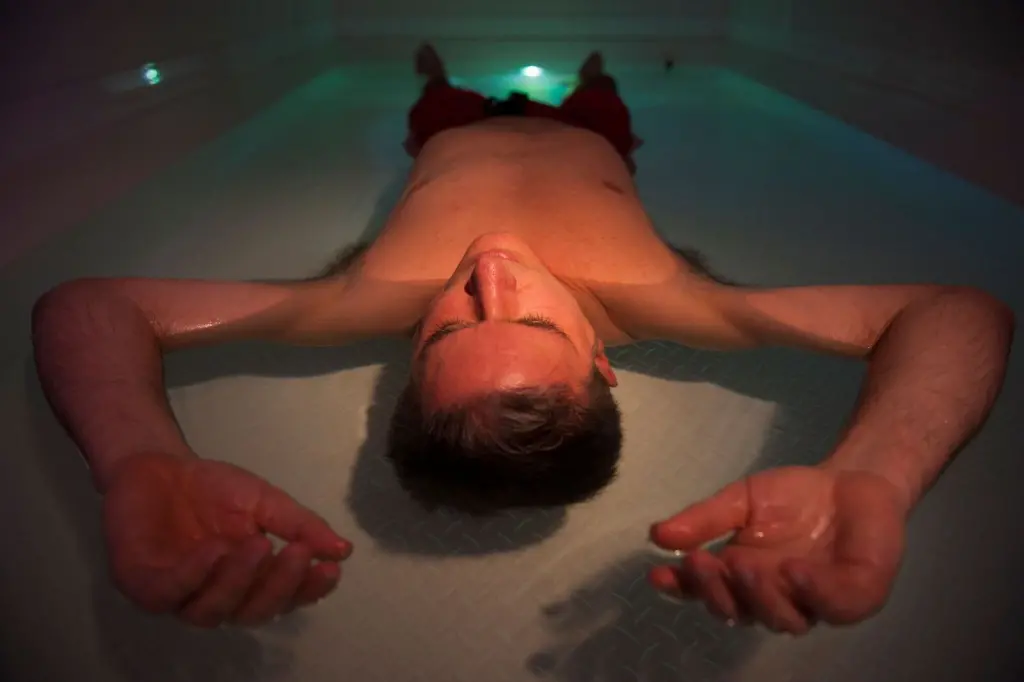 All of this is designed to eliminate any outside distractions so you can have a blissful experience and de-stress your mind & body.
"It's the only place that I found in this world where you can eliminate all the senses and be able to master your thoughts" – It works wonders for the basketball star of Golden State Warriors, Stephen Curry.
"To be forced to feel that nothingness, this has opened my mind for new business ideas many times" – The entrepreneur Scott MacKenzie definitely feels a boost in creativity while floating for 3 to 6 times every week.
There are many benefits that floating therapy brings. The ability to clear your mind and give it a well-deserved rest is priceless.
Considering that the process is very safe, everyone should strongly consider trying it, and experience all the benefits that floating therapy can offer you.